The Essential IT Checklist: Christmas Edition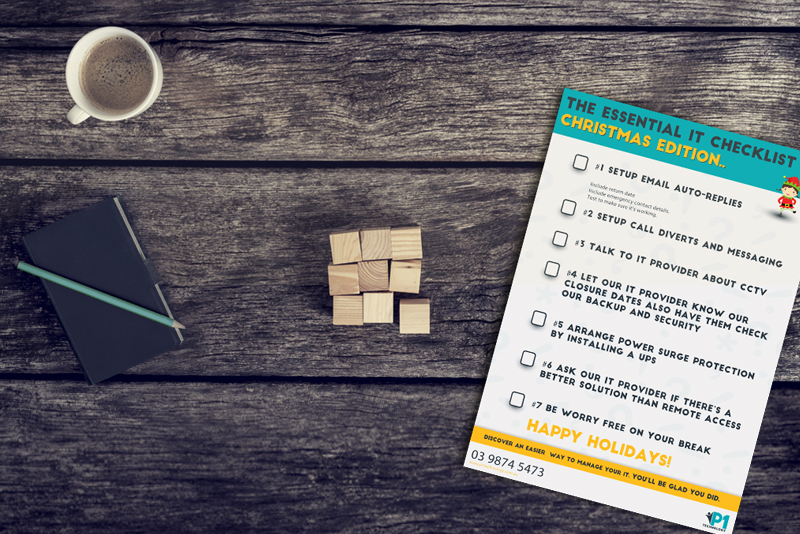 Have you got your holiday technology plan ready?
December! It's here! And most of us are already counting the days until we can take some much needed time away from our computer screens, forget about work for a few days and just relax.
Before you escape the office, there are a few things to think about in the IT department that if sorted now, will let you truly switch off over the Christmas break. So while you're sitting by the pool, camping out under the stars or simply enjoying another helping of Christmas pudding, our essential business IT checklist will help prevent unwelcome technical gremlins from spoiling your holiday.
#1 Setup your email auto reply
Make sure you and all your staff know how to turn on an out of office auto reply before you hit the beach. It's a lifesaver when it comes to reducing email distractions while you're trying to relax. It really does help if people know you're away and when you're likely to get back to them. Be sure to include the date you'll be back in your auto reply and if you can, give people someone else they can contact in your absence. You'll be much less likely to be caught emailing beside the pool.
#2 Setup call diverts and messaging
Does your phone system allow you to setup a rotating schedule or call divert? If not, now is the time to talk to your technology providers to get this set up. It will let you automatically set a schedule so if you receive a call to the office that's urgent, the phone will divert itself to a rotating set of people. This way, staff can keep an eye on the business remotely without having to be in the office over the break. Even better, everyone can take turns being "on call" so everyone can get a well-earned rest.
#3 CCTV
It would be nice if we didn't need it, but having the ability to make sure the office is safe while you're away will give you real peace of mind. By installing a simple CCTV system you'll be able to see what's going on and the best part is you can do it from wherever you are – modern technology gives you accessibility to view live camera feeds from your mobile phone or tablet. Easy as.
#4 Let your IT provider know you're away
It's probably not at the top of your to do list, but letting your IT managed service provider know you're on leave might save some unnecessary alerts and phone calls from them asking why your backups and computers are offline. A simple phone call or email that includes your closure dates will make your leave more peaceful. It also won't hurt to get them to do a 10 minute check to make sure your critical data is properly backed up and secure over the break.
#5 Power surge protection
You're on leave and you just need to gain quick remote access to do the pays on the last Thursday in December. Sound familiar? It's often the only thing a business owner needs to do on their break. You're away somewhere awesome, three hours from the office, just starting to wind down and suddenly, so does the power. This in turn means the internet is down so you can't remote access!
These power outages or surges during heatwaves and storms often happen in December and January. Protecting your modem, router and network switch with a UPS will stop these outages from taking your internet down and you'll be able to login to make that last pay run of the year.
#6 Reconsider Remote Access
If you're the person who has to remotely access the office to do payroll or another business critical function, it's time to consider that there might be a better way. Remote access is often still in existence because of old systems and software. A more modern system would mean you could do these small but important tasks on your laptop from wherever you are without having to rely on remote access to login to the office system.
It's time to talk to your IT partner and see if there's a better option. There may still even be time to get it up and running before December 24.
We know there's lots to do before Santa comes. But if you take some time now to get your IT sorted, you'll be able to ensure you have a great break and come back rested for your best year in business yet.
Want a handy printable version of this checklist?
DOWNLOAD PRINTABLE CHECKLIST HERE.
« Back to News