The Best Laptop, PC and Tech Gadgets from 2019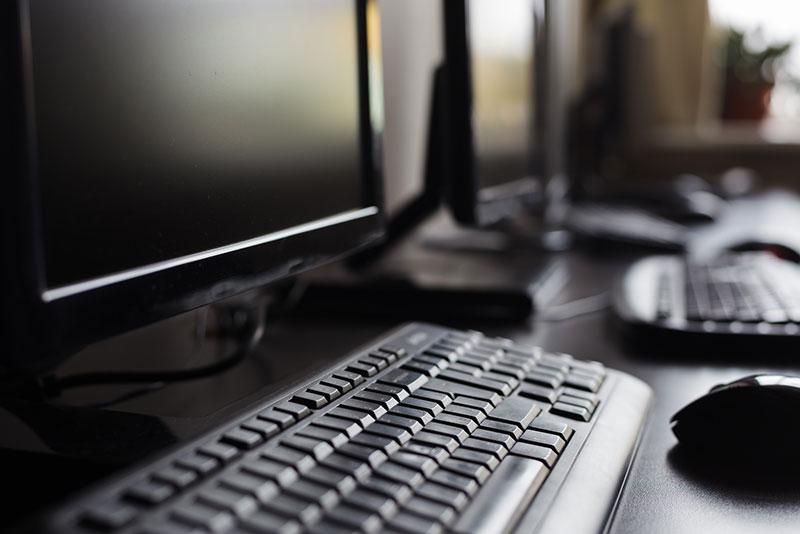 It probably won't come as a surprise that the team at P1 Technology get to experiment with and experience a huge range of technology hardware for businesses throughout the course of a year.
From laptops and desktops to monitors and other office gadgets, it's impossible to not come out at the end of the year with a few favourites. So we thought we'd share them with you.
Our favourite Laptop Computer: Lenovo T480s
It's nothing flashy to look at, but the Lenovo T480s has simple, business-oriented functionality that will last you the distance.
We do note that it's been recently superseded by the T490s – but whether you've already bought the 480s or are eyeing off the latest model, you won't be disappointed.
Exceptionally well built and with great specifications, the model we sold the most of this year was the Intel i7 processor with 8550U, 16GB RAM, 512GB SSD storage. It's 14", weighs just 1.4kg and comes with a touch screen, built in 4G and a 3-year international warranty. Best of all, it comes in at a price point of under $2500AUD.
The only thing this beauty didn't have was the ability to convert to tablet mode and a number pad on the side of the keyboard. But in our opinion, most users won't miss either of these features unless they're something you're already used to having. If you can't live without them, there are similar laptop models available, but it will come at the sacrifice of device weight or price point.
With the addition of an external keyboard, mouse and a monitor or two, connected to your Lenovo USB-C dock (which is an optional extra), the Lenovo T480s or 490s are truly a one size fits all solution that can both double as a desktop and provide the portability of a laptop. Invest in this hardware and you won't have to buy and maintain a desktop for the office as well as a laptop for when you're on the road – you'll have everything you need in a single unit.
Our favourite Desktop Computer: Lenovo M910s
For businesses that need reliable, fast and compact desktop computers for their staff, you can't go past these. This one's just had an upgrade too, having been superseded by the 920SFF. But once again, it doesn't matter which model you buy: Lenovo have created our favourite desktop computer for 2019.
They're flexible enough to upgrade down the line if you discover you need to add a bigger hard disk or more RAM and like the Lenovo laptop, the M910s delivers simple, business functionality with great longevity. Featuring a 512GB SSD and 16GB of RAM, it also comes with the usual 3-year warranty to back you up.
And if you're in the market for a new desktop computer for your business, now is a great time to invest. You can score yourself an M910s for about 30% less than the new model if you're willing to have a 6th or 7th Gen i5 processor instead of the new 8th Gen i5 – for most people, there's no downside to this and you still get the usual 3-year warranty.
The runner up…
The other notable contender in this category was the HP Elitedesk 800 G4. This desktop came with the latest Gen i5 processor and like the Lenovo M910s also features a 512GB SSD and 16GB of RAM. But it came at a price increase of around $500AUD, which in our opinion meant it wasn't the best value for money for most business users.
Our favourite Monitor: HP EliteDisplay 23.8" with Webcam
The HP EliteDisplay E243M is a quality monitor, in an attractive package. It's height, tilt and swivel adjustable, has a front speaker panel, a webcam and comes with a 3-year warranty, all for a very reasonable $330.00AU.
What more could you want? It banishes the plain and boring monitor with it's sleek style and the inbuilt webcam, speakers and microphone mean it covers all the usual needs of a modern business user.
And yes… you'll find a dozen better reviewed monitors out there, but this is the best WE'VE seen this year. It won't be faulted by your team who will greatly appreciate the fact that you've invested in something they'll be staring at for the next 5+ years, for 8 hours a day.
I know I would… Hmm time for an upgrade maybe?
Our favourite tech gadgets for business
In addition to the usual hardware, we came across three great pieces of technology we've put into use in our own office this year.
Gadget 1: Wireless charging stands for mobile phones
View our favourite wireless charger.
We rely on our phones so much these days and charging them is a daily fact of life. So, why not have it sitting on a charging stand when you're at your desk?
That's one less cable that you've almost certainly forgotten (at least once!) to unplug when you try to leave in a hurry, damaging the charging port on your link to the world. And it allows your device to be visible and usable for most functions without having to take it off charge.
It's not exactly an earth-shattering gadget. But it's proven, inexpensive tech that will make your life a little easier and less cluttered.
Gadget 2: Ubiquiti Unifi Wireless System
We finally got around to upgrading our WiFi in the office to something modern this year.
We've been using these at client sites for at least 3 years now, but finally spent the money here and bought ourselves a few Ubiquiti devices for our own network and it's been worth the investment, making the made the speed of our WiFi much faster and more reliable.
In the past, when moving out of range of the first WiFi access point and into the range of the second, the handoff between was unpredictable and often meant a loss in connectivity. But not any more. Now we can wander around all over the office and surrounding areas and have fast reliable WiFi wherever we are.
This gadget is great investment for any office or even home office, and it's a system that you can build on in the future, as our ever-increasing reliance on internet-connected devices continues to grow.
Gadget 3: Bluetooth enabled office phones
Our trusty old office handsets were starting to show their age, so it was time for an upgrade.
We opted for units that allowed us to answer calls via our Bluetooth headsets that we use for our mobile phones. This means, no matter which phone rings, we can answer at the touch of our headsets. And best of all, we can walk around the office or even outside while we're talking.
These are a great way to get a bit more sunshine this summer! Plus the new handsets mean we can more easily do things like transfer calls to mobile apps, or even to users who don't have a desktop handset by sending the call straight to their mobiles. This saves dollars on rarely used handsets, and we've got less clutter around our desks.
There you have it! Whatever your upcoming needs, we hope our review of the best technology for business in 2019 will help you make some great tech choices.
« Back to News