Zoom vs Microsoft Teams vs Google Hangouts Meet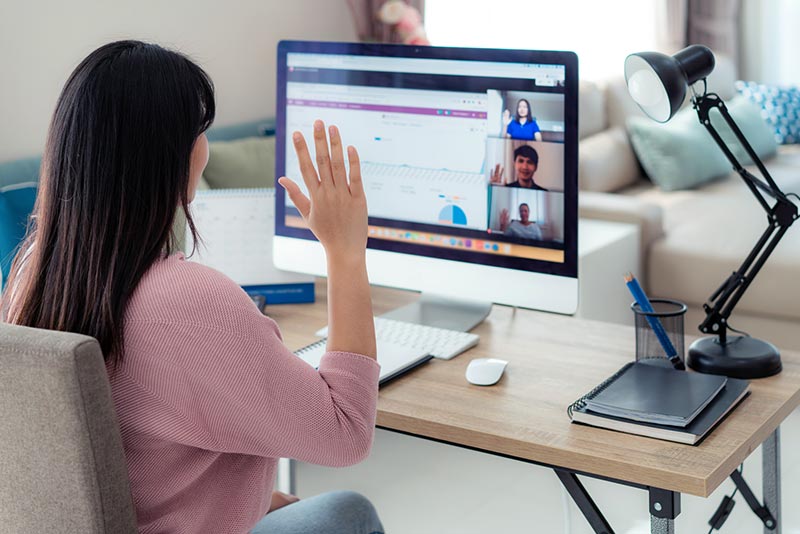 What software should you use for video conferencing?
We've all recently had video conferencing thrust upon us whether we like it or not. And you're not alone if you're confused as to which one is the best for you – all our clients have been asking the same question.
So we thought we'd take a look at each option and answer some of the most common questions to help you decide.
What are my video conferencing options?
The video conferencing names you're most likely familiar with are Zoom, Skype, Google Hangouts and Microsoft Teams (which is Skype – but we'll get to that in a minute).
All of them have their pros and cons. But the good news is that you can usually access all the basic features within each of these software options, for free. Free subscriptions do come with only the basics though, and often have restrictions on call length and the number of participants you can have on a call.
Let's take a closer look at each platform.
Zoom
Zoom is probably the easiest video conferencing platform to use.
Even without a license and very basic user information, you can setup a meeting for two people, with a maximum 40-minute call length kicking in only if you'll have more than two people on a call.
The paid version is even better, and if your organisation isn't already invested in Office 365 (which is Microsoft Teams) or Google G-Suite (Google Hangouts) then Zoom is most likely the best option for you.
It's no surprise that it's seen a huge surge of new users over the past few weeks. This of course brings with it some challenges, one of which is the exploitation of a bug, which Zoom has since fixed.
For more tips and tricks on using Zoom safely, head to the bottom of this article.
Google Hangouts Meet
If you're invested in Google G-Suite for your business, then Google Hangouts Meet is the business version of Google Hangouts video conferencing and it's a great option as it's already included in your subscription.
They are also giving all subscribers access to all enterprise advanced features until September 30, 2020, no matter what type of G-Suite subscription you have. So you'll get access to features that allow you to hold large meetings of up to 250 people, live streaming for up to 100,000 viewers within a domain and the ability to record and save meetings to your Google Drive.
And lots of people have a Gmail account – so if you're trying to conference with lots of people, from lots of different organisations, this is a great option.
Microsoft Teams
Microsoft has several video conferencing platforms available to use. We're going to do our best to explain them, even if things get, well, curly.
If your business is on the Office 365 platform and you want to link your colleagues together, then you can take a look at the video conferencing that's available through Microsoft Teams.
There's also Microsoft's free video conferencing tool – Skype. And then there's Skype for Business. To be honest it gets a little confusing. Here's why.
Microsoft are Microsofty.
New word. Microsofty. You'll see the definition in the urban dictionary before too long.
What we mean by this is that they have a committee with zero exposure to the real world deciding how things will work. They just go ahead and do it, and work out the bugs later.
The issue with this is that they can even start with a perfectly good piece of software (like Skype for example, which they acquired for US$8.5 billion in 2011) and then they make it worse.
First there was Skype. Then came the commercial grade version Lync. Then Skype for Business, and now we have Teams.
All are basically the same thing and do pretty much what Zoom and all the video conferencing platforms do. Microsoft just makes it harder.
Why? Because in Microsoft's world there are businesses and then there's everybody else.
Teams is designed to be used by business. Skype is designed to be used by everyone else and the consumer version can be used for free. But surely those who are in business on the Teams platform, don't need to talk to those on the Skype platform. Right?
So at present there isn't a way for Skype users to talk to Team users and vice versa.
This means, that if you use Teams for video conferencing, everyone you conference with also has to have a paid license of Office 365 with access to Teams.
It's so… Microsofty!
So essentially, while Teams is great for your team (get it!), if you're having to video conference with various people in different organisations on different platforms, then Zoom is really the way to go.
Using Zoom? Here's how to do it safely.
It's important to remember that all software has vulnerabilities that hackers like to take advantage of. Whether you choose to use Zoom, Microsoft Teams, Skype or Google Hangouts Meet, you should make sure you're across software updates and best practice.
Now that Zoom is attracting so many users, it's also attracting more hackers (and some jokers – see "Zoom bombing").
Here's some tips on how to use Zoom safely and keep your data secure.
Use the web-based version
Recently hackers found a vulnerability in the Windows App version of Zoom that allowed malicious links to be posted in the chat box.
While this vulnerability has since been patched, you can avoid this issue all together, simply by using the web-based, internet browser version of Zoom instead.
Secure your meetings
"Zoom bombing" wasn't even a term that had crossed our lips a month ago.
This is when people randomly guess the link of your Zoom meeting, and join in.
The best way to avoid this happening to you, is to password protect your meetings, a feature that's available even in the free version. This forces anyone trying to enter your meeting to type in a password to gain access. New deployments of the Zoom app seem to be enforcing meeting passwords by default, so we expect this will become less of an issue over time.
But you can take control now – password protect your meetings.
Securely storing recordings
Another current design flaw relates to storing meeting recordings. Basically, the flaw allows people to guess and search for random Zoom recordings stored online.
Now, while Zoom are likely working on a solution for this (they've been very quick to patch vulnerabilities), they can't really be blamed for people uploading their videos onto the web and not ensuring they're secure.
If you do upload your Zoom meeting recordings to your cloud storage (like OneDrive, Dropbox or Google Drive) always ensure they aren't publicly viewable, and that you've got Multifactor Authentication turned on. That's that thingy-majiggy where in addition to your password, you have to enter a code sent to you via SMS or an authenticator app.
Every business is having to learn something new as the world around us changes. But you don't have to take on technology alone. Make sure you speak to your technology partner – they're in the best position to help you make decisions around which technology is right for your business.
« Back to News