Upgrade Your Home Office with 5 Essential Pieces of Tech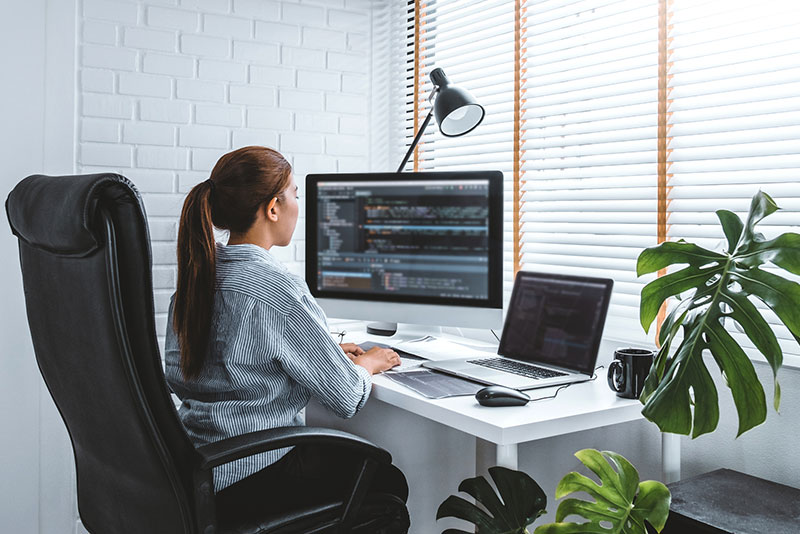 Even prior to the 2020 Coronavirus pandemic, more and more of us have been choosing to work from home.
Are you still doing it from your kitchen table?
Well, while I can't help you find a dedicated office space in your house, I can impart some wisdom on how to make the working from home situation a little easier.
If you're looking for increased comfort, productivity and efficiency, then here are five essential pieces of technology to get your home office working smarter.
1. Multiple monitors
If you're working from a laptop or single desktop screen at home, but are used to having more than one screen at work, chances are you've already invested in a second monitor.
If you haven't invested in a second monitor, then do it… TODAY!
And if you aren't convinced that a second screen will improve your working from home life, then I challenge you to give it a try for a month. Trust me. You'll never go back. I'll even go so far as to say that I'll loan you a monitor to try for a month, just to prove to you how amazing it will be.
2. Laptop Docking Station
If you have a standard "consumer grade" laptop that either doesn't have a docking station, or uses a generic laptop stand, then you probably have cords running all over your desk. You're probably also sick of plugging and unplugging the power adapter every time you need to move your computer.
Well, commercial grade laptops from Dell, HP and Lenovo can all be supplied with a proper docking station. This means all your external devices, like power and Ethernet, can be connected to the docking station, then you can connect your laptop to the docking station with ONE cable that does it all.
If you don't have a commercial grade laptop and are now thinking of getting one just for the docking station, make sure you have a chat with your IT specialist so you can choose the laptop that's right for your business needs.
3. IP Phones
Depending on when you're reading this, there's a chance that you're working from home because your office is closed. So you have to divert work phone calls to your mobile and you can't transfer calls to someone else in your team that easily.
If you're missing your office phones, an a VOIP or IP (Internet Protocol) Phone, hosted on a cloud server (or cloud PBX) will give you an office phone on your desk, no matter where you are.
4. Ergonomic Workstation
If you're working from home thanks to the COVID-19 pandemic, then you probably originally thought you wouldn't be doing it for too long.
But there you are, and here we are.
Your back hurts, your neck aches, your chair has lost another wheel (if it started with wheels at all… hello kitchen table!) and that monitor that sits on top of a pile of your best hardcover coffee table books fell off again yesterday when your 3-year-old came to show you their latest masterpiece.
Instead of spending more money at the physio, spend a little time and money getting your desk setup properly.
You'll want monitor arms, a decent monitor (see point 1 above) and if you aren't already using a proper keyboard and mouse with your laptop, then order them now. And please, please upgrade your webcam! It's not 2010 anymore and you'll look incredible on those Zoom meetings when you come through in high definition.
5. Bluetooth Headset
A Bluetooth headset is the ideal companion to help you work more comfortably from anywhere. It will connect (or pair) with your mobile and laptop at the same time so you can talk on Zoom meetings and talk to clients on your mobile all while you keep both hands available for important things (like helping with those home school art projects).
Our team love this one from Plantronics, but there are other good ones on the market.
We may or may not be heading back to the office anytime soon. Either way, investing in at least one of these essential pieces of technology will make your home office feel better. And that is never a bad thing.
« Back to News