Six Awesome Microsoft 365 Features for Your Business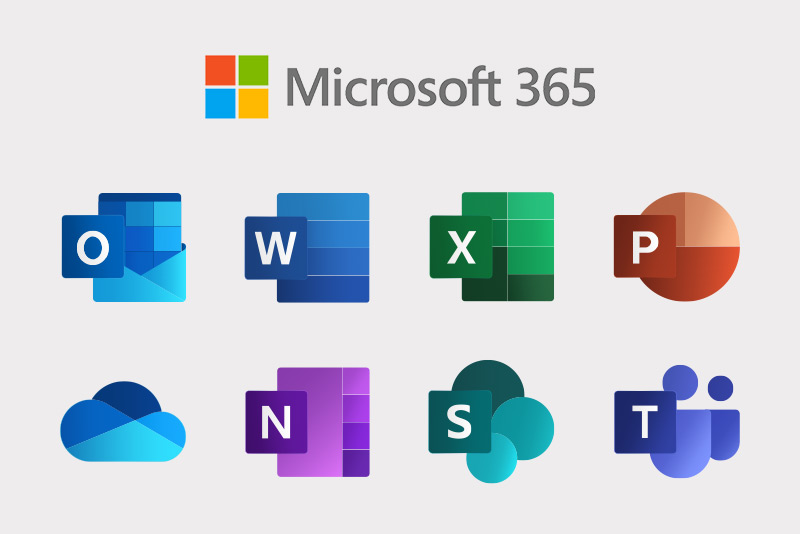 Let's face it. Microsoft are not known for being clear when it comes to the naming of their products. So it's not a surprise to learn that there was always confusion when it came to Office 365.
There was Office 365 Personal, Office 365 Home, then there was the Office 365 for Business that came in a variety of versions like Essential, Standard, E3, E5 and so on and so on. We spent a lot of time explaining the value of Office 365 for Business when clients already thought they had Office 365 (though it was only the Personal or Home version, and didn't offer the business benefits of a Business version of the software).
Enter Microsoft 365
Encompassing all the things you loved about Office 365 (such as Word, Excel, PowerPoint and Outlook), Microsoft 365 can come equipped with business tools such as Exchange email and SharePoint and businesses can also include bundle in Microsoft Windows licences.
So, all in the one, easy to manage license, you get access to Microsoft Windows, Microsoft Office, Exchange email, SharePoint, Microsoft In-Tune and many, many other features.
You can compare all your options in detail here, but in this article, we're going to take a look at some of the awesome business features that come with your Microsoft 365 subscription, that you might not know exist.
---
Six Awesome Microsoft 365 Features for Business
1. Efficient Collaboration with SharePoint
Your business creates many, many, many documents and spreadsheets. These will work harder for you when you store them on the Microsoft SharePoint Cloud storage system. This is because SharePoint allows you to share the documents across your team, by giving you the ability to collaborate on files, instead of emailing them back and forth.
You can even work on files simultaneously, and reference them from a single location in the cloud as required, whether this is at the office, from home or even while you're living it up at the beach. This stops file duplication and overwriting, in addition to meaning you don't have to connect remotely to office infrastructure to access and collaborate on files which is often a slow and cumbersome process.
The thing is, that if you have a Microsoft 365 subscription, then you already have SharePoint. And the information flow within your business will become more seamless and efficient when you make use of it.
2. Managing User Permissions with Azure Active Directory (Azure AD)
Not so long ago, in most businesses, there was a physical server that controlled the security of your individual workstation at the office. From this server, your IT specialist could manage the settings that determined what a user was allowed to access, when they were allowed to access it, and from where they could access it. This was called Active Directory.
This directory of users was designed to keep the business and its data secure. And with Azure Active Directory, your Microsoft 365 subscription gives you this same power within your business, but without the need for the cost restrictions of a physical server.
Azure Active Directory is fully cloud based which means it can be managed remotely by your managed service provider. When your team log on to a computer with Microsoft 365, Azure AD is what's making sure they only see what they're meant to see.
3. Productivity for the win with Single Sign On
If you do use Azure AD, then you'll have the ability to give your team access to Single Sign On (SSO). Every day, your team has to login to a wide range of tools they use to be able to do their job. Single Sign On allows them to access all the online platforms they need to access with a single user name and password.
For example, if your business is in finance, you might use COIN, or have many different logins to financial institutions. Instead of having to login to each of these one at a time, all the passwords are saved in the Single Sign On dashboard in your web browser, so you only have to login once.
Not only that, but your users don't even have to know the passwords. These are configured by the IT Administrator, and can be restricted to access only from a work terminal so staff can't access online portals from home if you don't want them to. Then, if a staff member moves on, you don't have to worry about them taking company data with them: they can't sign-in to something they didn't know the password for in the first place!
4. Increased Data Security with Geo-Blocking
While Azure AD is included with basic Microsoft 365 licences, if you upgrade to an Azure P2 package, you'll be able to configure what's known as Geo-Blocking.
Geo-Blocking allows you to block access to your accounts based on location and is particularly useful in preventing cybercrime. It allows you to dictate that people located in specific countries can attempt to login to your Microsoft 365 account.
For example, you could setup Geo-Blocking for China, Russia and Iran. Then if anyone from one of these countries tried to open your login page, they simply couldn't. And if they can't even access your login page, then they simply can't attempt to hack you. Got a staff member travelling to Turkey? No problem. Geo-blocking would allow you to turn on access from that country for however long was required, and then turn access off again when your staff member returns home.
Geo-Blocking is a great preventative measure for potential security risks and helps to protect your business from malicious access to sensitive information. And it's a feature that's easily accessible through Microsoft 365.
5. Seamless Device Management with In-Tune
Jane in HR needs a new laptop. Your IT team purchases the ideal device and ships it directly to her. When she opens it, turns it on and connects it to WiFi, it automatically downloads her preset profile directly onto her new laptop. No messing around on the phone to IT. No need for the IT department to get remote access to complete the setup. No ticket in the IT helpdesk queue.
Sound amazing? This is all possible with Microsoft 365 thanks to In Tune. In Tune runs alongside Azure AD and allows mobile device configuration so you can configure, track, lockdown and open up access to users on devices globally. It's one of our favourite features for business, because it helps cutdown on the messing around when it comes to device management.
6. An Integrated Phone System with Microsoft 365 Enterprise
If you're a medium or larger size business, you'll definitely be interested in the option to run all your telecommunications through the options available as part of the Enterprise range of Microsoft 365 licences.
So instead of paying for a separate phone system and traditional desk phones, these plans deliver the equivalent of a modern IP (internet protocol) phone system using a combination of Microsoft Teams, mobile apps and dedicated calling devices like the Lenovo ThinkSmart View (imagine a dedicated desk phone that's portable and has a touchscreen, and you'll get the idea).
It's not an ideal solution for small business, as you will need an IT team to support it, but it offers an agile and flexible telecommunications option to businesses that still rely on the traditional setup.
So there are plenty of reasons to be excited about your investment in Microsoft 365. And if you aren't sure which version is the right one for your business, then get in touch with your IT managed service partner who can help you make the best choice for your business needs.
« Back to News