Moving office? Here's what your technology needs you to know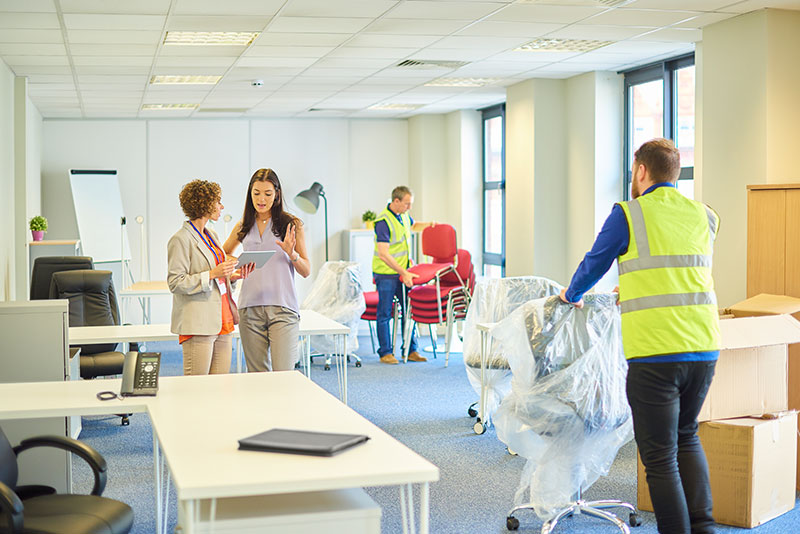 Getting ready for an office move? Have you thought about your I.T.?
Moving your business from one location to another can be a stressful time. There's so much to think about. And one of those things is moving your all your tech to the new space AND getting it all working.
Technology plays a key role in every business. This means that if it doesn't work, then moving into your new office will quickly turn from an exciting adventure into a daunting nightmare. The difference between the two will come down to good planning and preparation.
Moving your office technology: The Basics
In my experience, many modern businesses have the basics covered already when it comes to relocating. This is because all they need is an internet connection: cloud services mean they don't have a physical server, VOIP phone systems mean the phones can simply be picked up and plugged in at the new location and many businesses have a 4G failover connection on their internet router that means even if the internet isn't connected at your new office on day one, you'll be able to get by for a few days until you are.
If this sounds like you, then your move to the new office should be pretty smooth sailing. You can just move your equipment into the new place, plug it into the data cabling that you've checked has been installed and away you'll go.
If things are more complex, then you're going to need some help.
If, like many businesses, you still have on-premises servers, traditional phone systems, no backup plan for your internet connection and think data cabling sounds like a weekend hobby for fitness junkies, then you're in the right place.
AND you're going to have to do some prep work before you move.
Here's what you need to be thinking about.
1. Internet
A client of ours recently moved into a nice new office in Chirnside Park. Their old office in Lilydale was more than 50 years old and it had a good internet connection – so the new office would too right? It's closer to the city, and it's, well, NEW! But they've moved in only to discover there's no NBN. In fact, there won't be any NBN until at least June 2020 when the service will finally be delivered.
The key lesson here is that no modern business can function effectively without a good internet connection. So you need to make sure that your new office has GOOD internet and not just any internet. Your telco or IT support provider should be able to tell you in 15 minutes what's available in the area, and you should seriously reconsider the location if it doesn't have good internet access. In my experience business owners often underestimate the impact a poor internet connection has on their workforce. It may not inconvenience the owner, but it sure frustrates the rest of their staff, and without happy people, you don't have a happy business.
Action item: Speak with your telco (or your IT provider) before you commit to a new office to make sure it's going to have the internet connection you need.
2. Cabling
I know; you're thinking, "Really? Cabling?" And YES – it's really that important. If you don't consider it well before you move and it gets overlooked, then it's very difficult, expensive and inconvenient to remedy.
If data and power cabling is completed prior to moving in, and there is a comms rack to house your networking equipment, your phones and data will flow seamlessly. If not, your computer may be slow accessing the internet or server data, the phones will be unreliable, and a spaghetti of cables might cause havoc by drooping down behind each desk or obstructing floors and doorways.
Action Item: Data cabling is just as important as power cabling. You should ensure there are at least two data points and two power points per desk. They should be in a practical place, labelled, and the data cables should all run back to a central location (wherever your comms rack is located). Don't know what a comms rack is? Then it's time to call in your IT support provider for some help.
3. Servers
Relocation is a great time to consider whether your server is still the best option for the future. Many businesses have a server that is at the heart of their business. It runs a critical application or hosts their shared files, and some businesses still have a physical server that hosts their emails.
In some cases you need a server because one or more critical services can't be moved to the cloud. But many critical services can be moved, and reliance on the physical server is greatly reduced as a result.
By moving what you can to the cloud (think email, shared documents, accounting packages and other day-to-day critical information) you'll reduce the downtime while your server is setup at the new location. This will reduce the panic of moving your server, and if you encounter any issues, your business won't be completely crippled.
Cloud services are secure, a lot cheaper than replacing your server, and with a good internet connection (see item 1) a cloud solution is often as fast, if not faster than an on-premises server. Don't dismiss cloud migration as too hard or too expensive either – it's often far cheaper and easier than you think.
Action item: Could you possibly get rid of that dusty old server? It's time to investigate what business critical technology you could move to the cloud to make your business more productive and efficient.
4. Workstations
I know it's obvious, but in an office environment, desks are where the work happens. If you want the work to happen effectively, then you'll want to invest some time in thinking about how your workstations will be setup.
Making sure desks are placed along walls will help to minimise visible cable clutter. If for design reasons you're going to have desks in the middle of the room, you'll need to ensure that power and data points are easily accessible, either through the subfloor or dropped down from overhead. And monitor arms are an inexpensive workstation addition that could make a huge difference to the comfort and productivity of your team by improving both ergonomics and aesthetics.
5. Printers
Thanks to easier options for data storage, we don't tend to print as many things as we used to. So now would be a good time to clear up some desk space and downsize your four or five old printers by upgrading to one or two quality printers. You'd be surprised how cost effective this can be in the long term.
And think about where the printers will go. You'll want to locate them in a central place where they're nearby to the people who use them most, and check that you'll be able to get data and power points at that location.
6. Security & Reliability
If you're going to be keeping your physical server, think about where it's going to live when it moves into your new space. It needs to be suitably cool in summer and off the floor in case of flooding.
Security is also a consideration you don't want to overlook. Make sure access to both your server and other critical networking equipment is secure either in a locked rack, or a dedicated, locked server room.
What next?
Moving offices is no small task. Ideally, you want to give yourself a good amount time to get planning before move day. And if all of this makes you feel out of your depth, the sooner you engage a technology partner to help you plan your move, the better.
Call your IT managed service provider today to discuss your needs so the upcoming move goes as smoothly as possible. You'll have plenty of things to worry about without your I.T. being one of them.
« Back to News