How to use Microsoft SharePoint in your business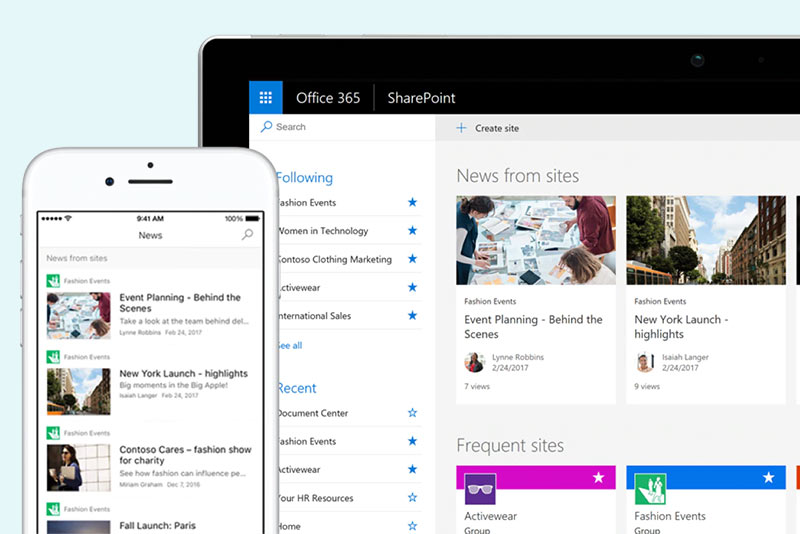 If your business is considering moving technology services to the cloud, then Microsoft SharePoint will generate almost instantaneous efficiency gains and reduce your data security risk.
Along with Microsoft Exchange Online, it's the best value platform available for business, and you'll want to make sure you consider it when you're looking at implementing cloud services.
In this article, we'll walk you through what it is, how you can use it and why we think it's such a great solution for business.
What is Microsoft SharePoint?
Many businesses are familiar with Office 365 - the cloud-based suite of productivity apps like Outlook, Word and PowerPoint. Well, Microsoft Sharepoint is a cloud based software service that's at the centre of the Office 365 Ecosystem. It's essentially the core platform that the other Office 365 collaborative tools hang off.
SharePoint is the tool you'll use to host and share all your business documents.
Why we think SharePoint is great for business.
---
Document sharing
Your business creates many, many, many Microsoft Word documents and Excel spreadsheets. These will work harder for you when you store them on the Microsoft SharePoint Cloud storage system. This is because SharePoint allows you to share the documents across your team, by giving you the ability to collaborate on files, instead of emailing them back and forth.
You can even work on files simultaneously, and reference them from a single location in the cloud as required, whether this is at the office, from home or even while you're living it up at the beach. This stops file duplication and overwriting, in addition to meaning you don't have to connect remotely to office infrastructure to access and collaborate on files which is often a slow and cumbersome process.
Cloud Storage
As an Office 365 user, you and your organisation have 1TB (that's one terabyte which is 1,000 gigabytes) of storage space available at no extra cost than what you're already paying for your Office 365 subscription.
So if your internal server goes down, or you need to access your documents from home, or from your mobile device, you can still get to them in the cloud.
This doesn't mean you lose control over your information. It's still yours, and it's stored securely in SharePoint. A copy is also usually kept at your office premises for a variety of reasons: the main one being that we all like to feel our data is safe and secure. Having a local copy, on your premises in addition to a copy in the cloud on Microsoft SharePoint means you've got options if there's ever a problem.
We actually recommend that you have your data backed up in three different locations like this -
Microsoft SharePoint
An on premises server or local storage device
Another cloud based or offsite backup.
This will give you three layers of redundancy and make sure your business can keep running in the event of a local hardware failure.
Other collaboration bonuses
SharePoint also brings with it the ability to access company information while you're using other popular Microsoft applications like Teams (which is replacing Skype for Business). If you're in a Teams Video Chat and you want to reference a document, you can all access it from within the Teams app itself. This makes collaboration efficient and easy as you don't have to open other applications in order to share.
And then there's data security.
Of course, SharePoint offers granular security to restrict access to sensitive data from various users, or groups of users in whatever way you need.
It also offers as standard, a 30-day "undelete" function for files that you've perhaps accidentally deleted from the cloud. But if you need more reassurance than this, you can even opt to implement a legal hold of up to 7-years, making it virtually impossible for data to be permanently deleted.
That gets a big thumbs up from us.
If you're considering moving your business into the cloud so you can access the efficiencies and other benefits that come with it, then you need look no further than Microsoft SharePoint and Microsoft Exchange Online. And if you're not sure whether this solution is right for you, a chat with your managed service provider should do the trick.
« Back to News