Cryptolocker outbreak, read more to find out how to protect yourself.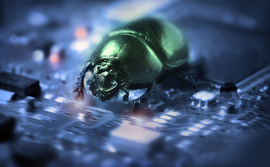 In case you missed this on the news recently, there has been an increased local outbreak of the computer viruses commonly referred to as Cryptolocker or Ransomware.
Cryptolocker and Ransom ware are getting into people's computers via cleverly targeted emails that people are innocently opening. The emails may be relevant and somewhat personalised tricking people into opening them. Once the email is open it infects the computer by encrypting files so they are unreadable and cannot be accessed.
We've had two cases over the last four weeks where clients have innocently opened an email they believed to be legitimate. Many important files including documents, excel sheets, PDF's and pictures on both computers we locked and could not be used. The program then prompts the user to 'repair' the problem by verifying your email address and paying a fee to unlock the files. This does three things. First it confirms the email is current and in use and can be targeted for future viruses. Secondly requires payment for the immediate virus removal, with no guarantee the repair will be successful. Lastly the culprits then have your payment details for further potential fraud.

HOW TO PROTECT YOURSELF -
Implement better spam filtering on your server to block such messages at the server level before they get to the user's computer.
Ensure you have a current and VALID backup in place. In the event you are infected and you have a valid backup your files can be quickly retrieved, minimising downtime and interference to your work.
Contact us to make sure you have the best possible spam filtering on your server (or computer), and you have a reliable backup system in place. 03 9874 5473 or info@fixitmobile.com.au

Can you afford to lose days of work, or at worst lose most of your critical data for good?
« Back to News